With HarDarshan K. Khalsa, MA, E-RYT 500

Monthly Class Schedule
Kundalini yoga is a safe and comprehensive system which combines breathing, stretching, movement, meditation and more for the experience of spirit and to heal your life. No experience in yoga is necessary for you to participate fully in this work. Everyone is welcome.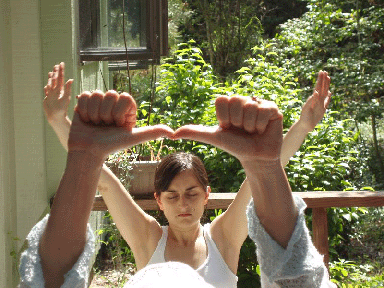 Not just a physical discipline, Kundalini Yoga encompasses the whole person: body, mind and spirit. It is designed to cultivate energy, endurance, stress mastery and the development of personal resources for the active lifestyle of our times. With a broad spectrum of techniques, classes can be tailored to achieve many results:
*  Overall health: strength and flexibility, enhancing your respiratory system and circulation, improving your digestion, strengthening your nervous system, invigorating your glandular system, building up your immune system and maintaining a youthful appearance.
*  Reducing stress and creating deep inner calm
*  Improving concentration and memory
*  Awakening the Spiritual Self: the experience of unity through yoga brings you into contact with your infinity, your link to the universe.
*  Creating prosperity
*  Removing fears and traumas
*  Mastering the self and increasing self-confidence
*  Improving relationships and marriage
If the scheduled group class times do not meet your needs, and/or you would like more individualized instruction, private classes are available.

HarDarshan Kaur Khalsa, MA, LPC, Lead Teacher has been studying yoga for over 40 years, including traditional hatha, Iyengar, Insight Meditation, and Bikram. In 1983, she discovered Kundalini Yoga and Meditation and knew that she was "home." In 1985, after the births of her two children, she began teaching Kundalini, and was certified in 1987.
For most of the past 37 years, she lived and taught in the Raleigh/Durham area of North Carolina, and founded the New Light Center yoga studio and healing center. She moved to Boulder in 2003 and lived and taught at the Kundalini Yoga Center of Boulder ashram. She also taught Kundalini Yoga and Meditation techniques to cardiac and pulmonary rehab patients at the Health and Healing Center of Exempla Good Samaritan Medical Center, where she was a chaplain.
HarDarshan's classes are challenging yet heart centered, active and yet meditative. Come and experience these classes which lead you to the Heart of Healing!